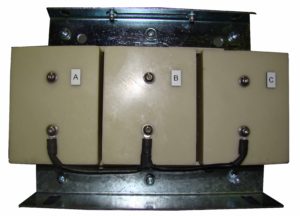 Voltage Transformers (VT) are used to transform High Voltage to Low Voltage with a high accuracy. The output low voltage can be used for Voltage Metering, Control and Protection of the High Voltage Network. VT also act as an isolation between the High Voltage Network and the Monitoring Circuit.
VTs are defined by accuracy class or protection class based on their application. We manufacture VTs that can measure Neutral Displacement Voltage (residual Voltage) for Earth Fault Relays. UTM designs and manufactures Inductive VTs to any specific requirements.
UTM Inductive Voltage Transformers:
Voltage range – upto 11KV Dry type (mounted with HV Fuses).
Voltage Transformers can be manufactured as single phase, two phase or three phase.
Insulation Class up to Class H (180°C).
Voltage Transformers with multiple secondary windings can be made.
Voltage Transformers can be supplied with enclosures to various degrees of protection (IP20 up to IP68), or Unenclosed based on the requirement
Compliant with AS60044 and IEC60044
Our Transformers are high in quality and robust in construction. All our Units come with a 1 Year Warranty. Please contact us to discuss.
Information Required with Enquiry:
Type (Metering, Protection or Control)
Power (VA)
Number of phases
Vector group (only for 3 phase)
Primary Voltage (nominal)
Secondary Voltages (specify with individual Secondary VA rating)
Class
Frequency
Operating or Ambient temperature
Enclosure IP (protection) rating
Special conditions (If any)