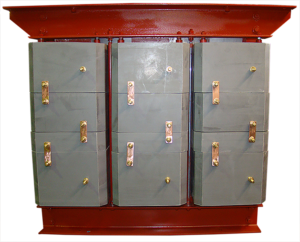 Auto Transformer are basically one winding transformers. Primary and Secondary share the same winding so it cannot be used for Isolation purpose. Auto transformers are smaller in size, low in losses and cost effective.
UTM Auto Transformers:
Power range – upto 1.0MVA
Voltage range – upto 36KV
Auto Transformers can be made as Single Phase, Two Phase or Three phase
Insulation Class up to Class H (150°C).
Auto Transformers can be supplied with enclosures to various degrees of protection (IP20 up to IP68), or Unenclosed based on the requirement
Compliant with AS60076 and IEC60076
Our Transformers are High in quality and robust in construction. All our Units come with a 1 Year Warranty. Please contact us to discuss.
Information Required with Enquiry:
Rated power in KVA
Number of phases
Vector group (only for 3 phase)
Primary Voltage (nominal)
Primary Voltage tapping range (if any)
Secondary Voltages
Secondary Voltage tapping range (if any)
Frequency
Operating or Ambient temperature
Overload conditions (If any)
Enclosure IP (protection) rating (If enclosed)
Special conditions (If any)