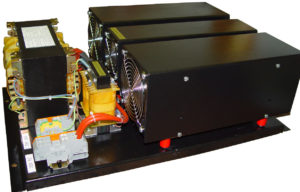 UTM designs and manufacturers AC to DC converters. The different types of converters are
Full Wave Bridge Rectified Power Supply
Capacitor Filtered Power Supply
Filtered and Regulated Power Supply
Battery Charger
We can also source SMPS and DC to DC converters from our suppliers.
UTM DC Power Supplies:
Input AC voltage range – Single Phase, Two Phase or Three Phase upto 36KV
Output DC voltage range – upto 500VDC
Cooling type – Air Natural or Airforced
Power supplies can be Enclosed (IP20 to IP65) or Unenclosed
Compliant to Australian Standards
Please contact us to discuss your requirements. All units come with a 1 year warranty.
Information required with Enquiry:
Type (as mentioned above)
Rated output Current or Power(W)
Input Voltage, Frequency and Phase
Output Voltage and Ripple
Enclosure IP (protection) rating
Overload conditions (if any)
Special conditions (if any)